Cataracts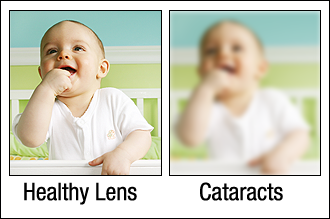 Cataracts affect the vision of millions of Americans. A cataract is a cloudy area in the lens of the eye. As a cataract grows, you may notice symptoms like poor night vision, fading colors, or double vision in one eye. It is a common condition among older adults. At Sealy Eye Center, we have the knowledge and technology to perform state-of-the-art surgery to remove cataracts at our facility in Sealy, Texas, and also to correct your vision, eliminating the need for glasses. Cataract surgery is one of the most successful, safest procedures in medicine.
Premium Intraocular Lens
Surgery to correct cataracts involves removing the lens of the eye and replacing it with a lens made of plastic that stays in the eye permanently, called an intraocular lens (IOL). This new lens is normally set to provide excellent distance vision. However, there are multi-focus, premium intraocular lenses available that eliminate the need for reading glasses post-surgery.
Bladeless Laser Cataract Surgery
Dr. Stephen Slade is a pioneer in bladeless laser cataract surgery.
"I have been involved in many new technology introductions, and I know from these past experiences that bladeless laser cataract surgery will be widely accepted by surgeons and demanded by patients all over the world," says Dr. Slade. "This is the cataract surgery that I would want for my friends, my family and myself."
This surgery is designed to be even safer and more precise than traditional cataract surgery. With virtually no pain and few possible complications, bladeless laser cataract surgery is an innovative, exciting improvement.
For questions about cataracts or to schedule a consultation, please call our office in Sealy, Texas at or you can use our secure online appointment request form.